District Communications
How to Stay Updated and Informed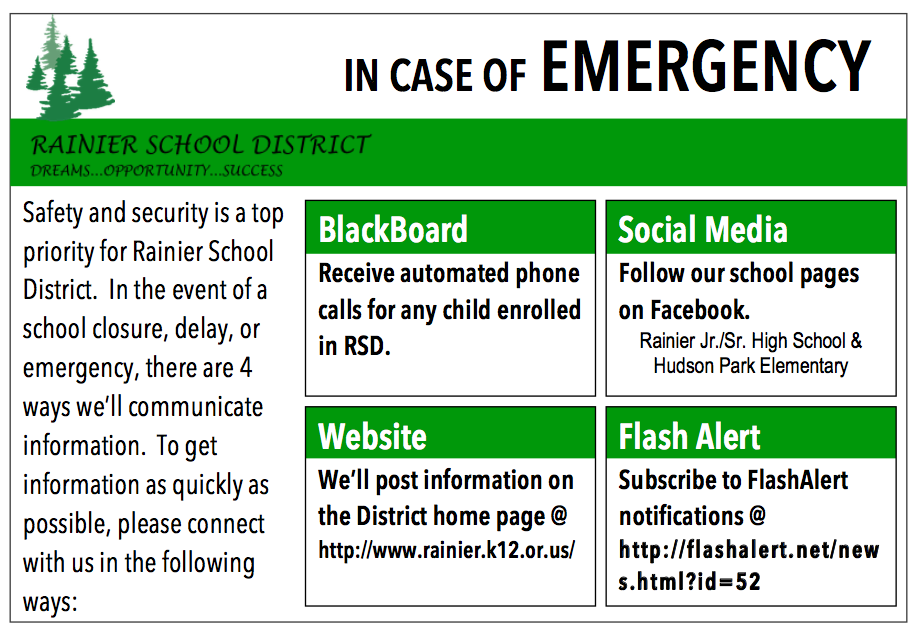 It is important to keep contact information such as phone, mailing and/or email addresses current in order to receive important school and school district information in a timely manner. If you need to update your contact information, please contact office staff at your attending school to make those changes.

Rainier Preschool/Hudson Park Elementary 503-556-0196

Rainier Jr/Sr High School 503-556-4215

North Columbia Academy 503-556-3777
Safety and security is a top priority for Rainier School District. In the event of a school closure, delay, or emergency, there are four ways we'll communicate information. To get information as quickly as possible, please connect with us in the following ways.

We use the following Blackboard, Flash Alert, Website, Social Media Facebook.
You can register for Flash Alert by clicking the Register link below.
FlashAlert: Register
Facebook: You can follow our individual schools on Facebook by clicking on the links below.