Human Resources
To Apply for employment please click the link below.
If you are interested in a position for the 2022 - 2023 school year, please consider filling out the K - 12 Teacher application or email Shalana_Harrison@rsd.k12.or.us.

Online Employment Application.

We believe that every single person who works for Rainier School District is here for the student in the classroom. We each have an important role in making certain that each and every student in our system has an opportunity to be successful. Our business is education, and because what we do is so very important, we work hard to hire and retain the best. Our standards and expectations are high. We strive to provide an environment that promotes teamwork, job satisfaction and professional development.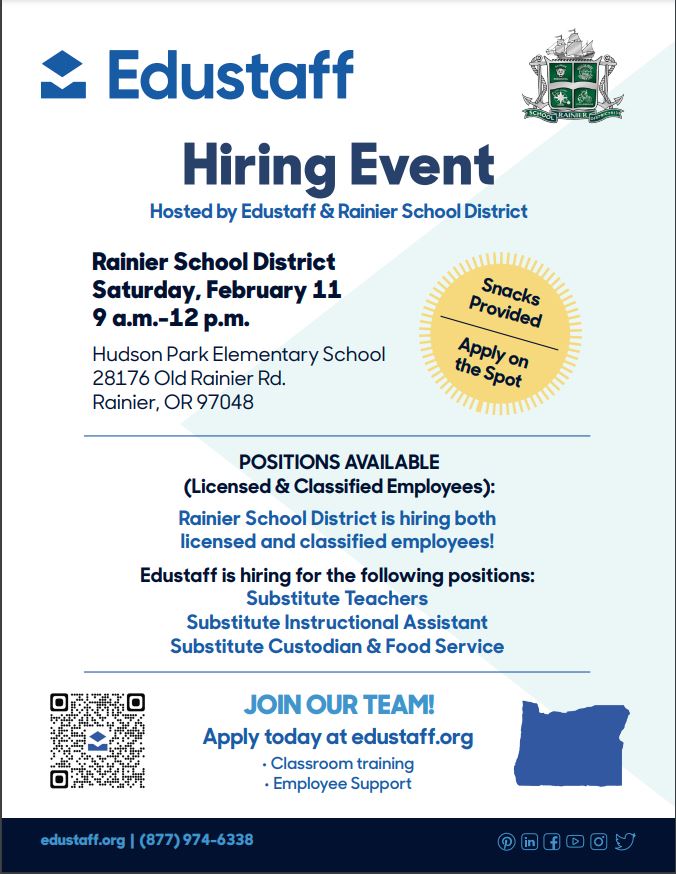 Interested in employment as a Substitute? Please apply using the following instructions:
Go to www.edustaff.org

Click on "Apply"

Complete the online application and follow the prompts for application submission instructions
Questions or concerns? Call Edustaff at 877.974.6338
The employees of the Rainier School District constitute the most important resource for providing a quality educational program for the students of the community. Recognizing this, it is the goal of the Human Resources Division to provide and maintain appropriate staffing services to accomplish defined objectives in the following strategic areas:

Employment practices

Attract and select qualified candidates and ensure that consistent and equitable employment practices exist within the district. The intent is to recruit, select, employ, and retain the best qualified employees available.

Policies and procedures

Ongoing communication of personnel policies and procedures to all employees in a manner that clearly defines and enhances the school board's and management's values and expectations.
Contact HR
Telephone: (503) 556-3777
Fax: (503) 556-3778
Mail: Rainier School District Human Resources Dept., 28168 Old Rainier Road, Rainier, OR 97048